Decathlon | artengo & gaël monfils
The year 2022 is marked by a new promising collaboration, since Team Artengo now has a new member in its ranks. Once ranked 6th in the world, Gaël Monfils has indeed chosen Artengo as a new equipment supplier (shoes, racquets and textiles) for the next 5 years.
Proud of this new turn, Artengo intends to write a great story with this renowned player, who has already conquered the hearts of the French and imposed his performance on courts around the world. With this new collaboration, Artengo is getting closer to the highest level by forging a long-term relationship of trust with those who promote the brand and the tennis around the world.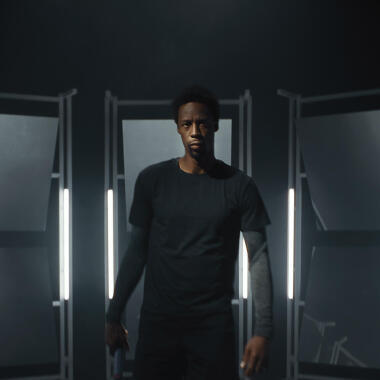 The collaboration between monfils and artengo
DECATHLON | ARTENGO & GAËL MONFILS
DECATHLON | ARTENGO & GAËL MONFILS
A human and sporting collaboration,
an alliance for performance
Like Decathlon, Artengo is attached to strong values ​​and never ceases to promote them, whether in the design of its products or in the actions carried out on and outside the court. The Artengo team has been aiming for several years to become one of the leading players in tennis, and it is with Oliver Marach (Men's double winner of the Australian Open 2018), many technical partners such as Steve Darcis, or even rising stars and future champions, that Artengo has taken its first steps towards performance and product expertise.

"For me, it's more than a partnership, it's really living it 100%, that's what is most important."

- Gaël Monfils
The desire to assert itself in the world of high level thus had to materialize through a new striking choice. It was important for the brand to be associated with an authentic, recognized personality and a daring temperament, mingled with an infinite passion for sport beyond even the tennis courts. Gaël Monfils therefore naturally found his place in this partnership. An indisputable French showman who is both unpredictable, endearing and relentlessly hardworking, this figure of world tennis never leaves his audience indifferent and was an obvious choice.

Confidence, proximity and openness: these are the key words of this new collaboration between the brand and the player. Gaël Monfils and Artengo, it is the meeting between two worlds that share the same desire: that of being useful to men and women passionate about tennis.
The tr960 control tour:
the racquet chosen by gaël monfils
During the first exchanges between Gaël Monfils and the Artengo team, it was the TR 960 CONTROL TOUR 18x20 racket that won over the French tennis player. This product, already in the offer, was initially designed for expert tennis players looking for control and precision.

The TR960 Control Tour 18x20 is intended to be an excellent compromise between maneuverability and power, with a thin profile and a flexible frame to keep control of the ball. To mark this collaboration, Gaël Monfils and the Artengo team have worked on a new design for this racket.
Racket specifications
Weight (unstrung): 305 g
Balance (unstrung): 31.5 cm
Head size: 630 cm²
RA (stiffness): 65
String pattern: 16x19 / 18x20
Length: 68.5 cm
The complete monfils outfit
Monfils racket pre-sale (ended)
To share the joy with you, we have launched the pre-sale of TR960 Control Tour Racket co-created by Monfils and Artengo for our members.

Date: 4 July 12pm
Versions: 16x19 and 18x20 string patterns
Sold at: online only
Eligibility: Decathlon members only

We have more Monfils exclusive products coming with couple of events. Stay tuned!
Cyril perrin
Artengo brand manager
It is certain that it is a partnership not based solely on sponsorship. We want to go much further and in particular on the co-creation part. With Gaël, we want 100% collaboration with the team and in particular around the future look of our products.