What is the difference between a ski jacket and a snow mountain hiking jacket?
How to choose the right ski jacket? Can I wear a mountain hiking jacket when skiing?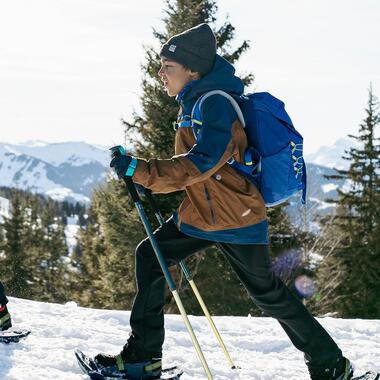 Choose a windproof, waterproof and breathable ski jacket and one that can give your body a comfortable range of motion. Hydrostatic head is the expression for measuring the waterproof level a jacket or material.
Our jackets have different functions designed according to varying sport needs. Take the following 2 jackets as examples to see the differences!
Snow hiking parka
Enjoy the wide-open snow-covered spaces! 
Snow hiking jacket design feature
Warmth
Designed for extremely cold winter, this jacket has a thick padded layer, with a double layered design on the trunk and a single layer on the arms. Its comfortable temperature is as low as -20 ° C. The general snow hiking jacket can withstand temperatures from 0 ° C to -15 ° C.
Waterproof level
Generally, the snow-covered hiking jacket is waterproof to 15,000mm,equivalent to about 2 hours of heavy rain.
Hem zip
The front body effectively prevents cold air from entering the body, easy to open and close the zip for bending or sitting down.
Tighten cuffs and waist straps
Can reduce the intake of cold air and reduce body temperature loss.
Fleece hand warmer pockets
The pockets use a fleece lining and are located at a higher position on the jacket.
Snow cap
Adjustable and removable artificial fiber fluff can effectively prevent snowflakes from falling onto the face.
Longer zip
Easy to open or close the zip when wearing gloves.
Ski jacket
Do you ski regularly, even in cold weather? This jacket has a down filling that will keep you particularly warm.
Warmth
Ski jackets are mainly divided into down and quilted lining, some snow jackets are mixed with down and quilted lining to provide warming effect. Generally they can stand up to -9°C -16°C. Reminder: Skiing is prone to sweating. It is generally not recommended to wear too much. 2 to 3 layers is enough.
Waterproof
Waterproof level of most of ski jackets are 5,000mm - 15,000mm. When choosing your jacket, it is recommended to choose one above 8,000mm as it can withstand a whole day of skiing and keep you dry.
Breathability
Breathable ski wear can release the water vapour produced by your body when exercising.
Body length
Hip-length ski jackets  promotes flexibility and range of motion while skiing.
Powder skirt
General ski jackets are equipped with a powder skirt. When skiing, the snow skirt can be fastened to cover the abdomen and prevent snow from entering the jacket, just like a barrier powdery snow. 
Pockets
 -Internal pocket for goggles.~ -The left hand sleeve is also equipped with a small pocket for storing the ski lift pass, convenient for scanning when boarding the ski lift.