WHAT'S THE BEST SMART EXPERIENCE FOR CARDIO FITNESS TRAINING?
Discover an innovative and more fun way to work out at home: online coaching and smart experience using your fitness equipment.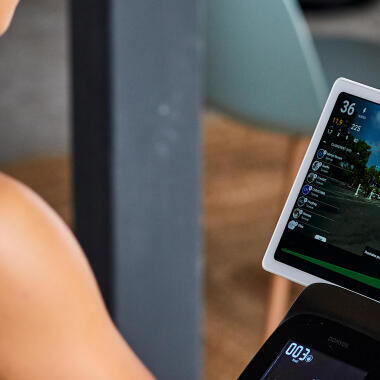 Training at home alone can be tough. And while it's great that so many fitness apps have launched in recent years, it's easy to feel a bit lost. What is a smart experience? A smart experience could mean online, coach-led workouts as part of a training programme or with specialist trainers. Or it could be an app that connects to your fitness device, where you set one or more specific objectives and the dedicated coaching sessions help you achieve them. We explain all in our special feature on the SMART EXPERIENCE!
CONNECT WITH YOUR FITNESS EQUIPMENT

Do you enjoy working out at home with your fitness equipment? Discover 3 apps that will spice up your cardio training for more enjoyable, more personalised, and more challenging workouts!
E-CONNECTED: FOR REACHING YOUR GOALS AND TRACKING ALL YOUR STATS.
This entirely free app is compatible with all of our fitness equipment: exercise bikes, cross-trainers, rowing machines, and treadmills. A simple, intuitive, all-round fitness app. Each week, you can set yourself a fitness goal: how many calories to burn, how long to work out for, or how far to travel during your workout. As you rack up the sessions on your Domyos fitness machine, you'll gradually reach your goal. You'll be able to track all your stats and fully analyze your progress.
E-connected can take control of your equipment while you watch your favorite films or TV shows on your smartphone or tablet.
Available on iOS and Android.
KINOMAP: THE SMART EXPERIENCE THAT TAKES YOU TO THE ENDS OF THE EARTH! 
Want to get away from it all? Kinomap is an app offering immersive workout experiences. Using your Domyos fitness device, you can connect to Kinomap and choose your favourite destination for your walk, run, ride, or cross-trainer workout.
Kinomap also helps you improve with training sessions led by coaches. You'll never again feel alone thanks to the Kinomap community, where you can test yourself against other members and enjoy a truly immersive challenge.
Available on iOS and Android.
ZWIFT: INDOOR CYCLING AND RUNNING IN ANOTHER DIMENSION.
If you're a fan of video games, this smart experience is right up your street. Whether you want to spin to your heart's content or blast out a treadmill run, join this online community where you'll find 10 worlds and more than 130 routes. Work towards your goals with a dedicated community and make your fitness training not just competitive but fun too! Zwift is compatible with Domyos fitness equipment and also offers coaching sessions.
Available on iOS and Android.
PRODUCTS THAT SUPPORT CONNECTED EXPERIENCE