Yoga|relax with yoga bolster cushion
Overwhelmed by work or stress? You don't know need to do action sport to refresh yourself. Just lay down and relax with a yoga bolster cushion, only take 30 minutes a week to be relieved.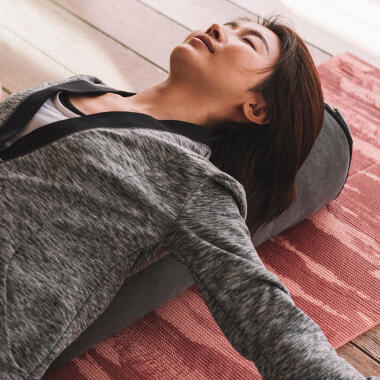 Yoga bolster cushion is a common accessory in practicing yoga and helps you to relax. Using the yoga cushion properly could let your body stretch better. It helps on practicing your breath and stress relieving as well.
Reminder before your practice...
1. If you are ill or feeling unwell, you should consult your doctor before your practice.

2. Please be cautious when practicing the forward bending pose if you have heart disease, high blood pressure or high intraocular pressure.

3. If your lumbar spine is hurt, please slow it down when you are practicing.

4. Love your body and do not over-train yourself.

5. Try not to practice when you are fasted or when you had your meal within an hour.

6. To achieve a better result, level of your practice should be tuned based on individual fitness level.

7. You must breathe with your nose when practicing yoga. Please keep breathing in a steady and regular rhythm throughout the exercise.
Demonstration
1. Open the chest and shoulder

Place the yoga bolster cushion at your back and lay down. Relax the whole upper body.
2. Lower back relax

Place the yoga bolster cushion at your lower back and lay down. Improve the flexibility and relieve the pressure of your back. Also can toning your glutes!
3. Head-to-toe

Place the yoga bolster cushion on your legs and fold toward. Can fully extend your back and spine. Hamstring will be stretched as well.
4. Corpse pose
Place the yoga bolster cushion under your knee joint and lay down. Bending your knees can let your back fully on the ground. It can let your back and lower body are more relax.
More about our yoga bolster cushion
Easy to clean: The cushion cover is removable.

Adjust the cushion's intensity or softness: the inside cotton can be removed to your suitable level.