ARPENAZ 0° camping sleeping bag
Product Code : 172511 8492458
Designed for sleep comfortably at temperatures close to 0°C when camping
0°C. The warmest and most comfortable in our range thanks to the softness of cotton and its exclusive 3-position hood. Long length of 2m. Convertible into a duvet. 5-year guarantee!
---
Home Delivery - :
Pick up in-store
Service not available
Home Delivery -
Select Your Location
FREE for orders above HKD499
This product is not available online. Check stock in stores !
Our Stores
pdm.privacy_policy_modal.title
Notify me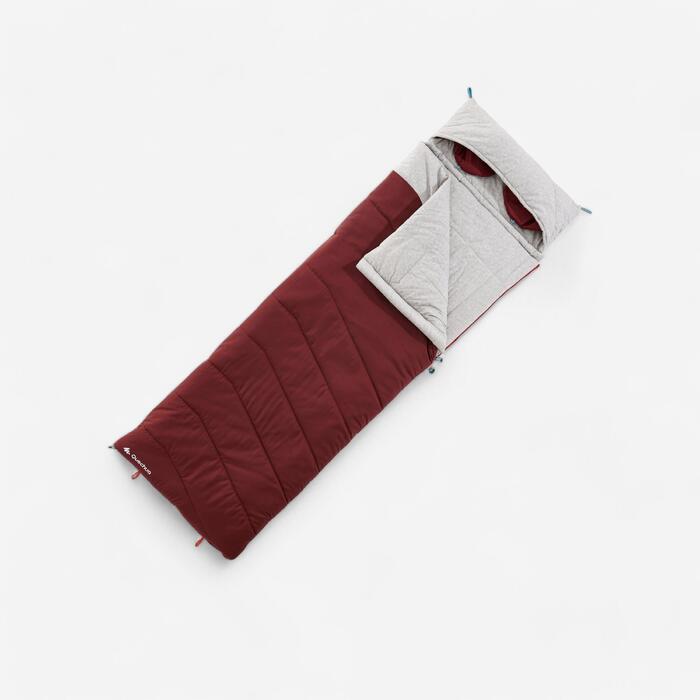 Your request has been registered
You will receive a notification at :
PRODUCT BENEFITS
Warmth
Comfort temperature 0°C / Limit temperature -5°C
Sleeping comfort
Dimensions 200 x 80 cm without the hood / full Zip
Easy transport
Weight 2908 g / Volume 23 L / Carrying pouch
Compatibility
Attachable to sleep 2: combine the same sleeping bag
Easy maintenance
Easily machine washable, follow care instructions
TECHNICAL INFORMATION
Usage temperature:
We display on all our sleeping bags the comfort temperatures tested by an independent laboratory (AITEX) in accordance with the European standard EN 13537 of 04/11/2002. Comfort temperature is the lowest limit of comfort at which the user in a relaxed posture is generally in thermal equilibrium and is neither cold nor hot (determined for a standard woman and under normal conditions of use). Choose your sleeping bag according to it.
What is the comfort limit temperature?
Comfort temperature limits: temperature limit at which the user of the recurred sleeping bag is generally in thermal equilibrium and is neither cold nor hot (determined for a standard man and under normal conditions of use).
However, what you need to know about temperatures:
A sleeping bag does not produce heat but retains the heat produced by the body. If you're exhausted, cold and slip into your icy, damp sleeping bag, you risk getting a cold, no matter what its features are! These temperatures depend on the person's resistance to cold (corpulence, fatigue,...), equipment (insulating the floor mattress,...), clothing (naked, underwear,...), and weather conditions (humidity, wind,...).
A few tips before you slip into your sleeping bag:
Dress simply (1 layer of clothing is enough). Warm your extremities: hats, gloves, socks, heaters, friction... A flask of hot water can be used as a hot water bottle (if there is no risk of unintended opening!). Shrink your muscles (70% of the energy consumed is converted into heat) but without making any movement generating cold air current. To avoid washing your sleeping bag too often, we advise you to use a sheet (ref: 8382711).
Composition
Inner and outer fabric: : 100% cotton. Wadding: 100% polyester wadding 60 g/m².
A score to compare the products' environmental impact
The product's environmental impact is calculated over its entire life cycle and with different indicators. A score ranging from A to E is attributed so that you can easily identify the products with a better environmental performance compared to products of the same type (T-shirts, trousers, backpacks,...). Decathlon totally backs the environmental labelling approach. For more info: http://sustainability.decathlon.com/
PRODUCT CONCEPT & TECHNOLOGY
STORAGE ADVICE
Easily store your sleeping bag by placing it in its cover, feet first. To keep it inflatable, a necessary feature for its thermal performance, remove the cover and store it in a dry place.
TESTS
This foam mattress is covered by a 5-year guarantee, starting on the date of purchase as specified on the receipt. The product covered by the guarantee will be repaired or exchanged free of charge. The guarantee covers defects in your foam mattress excluding those resulting from normal wear and tear or abnormal usage. This special 5-year guarantee only applies if you supply both the product and the receipt.
User Restrictions
Size and height: 190cm maximum
Product Composition
"Padding : 100.0% Polyester (PES) Lining : 100.0% Cotton Main fabric : 100.0% Polyester (PES) Carry bag : 100.0% Polyester (PES)"