Hike 500 Children's Hiking T-shirt
Product Code : 165751 8501487
Designed for hikers who want to combine comfort and style.
This hiking T-shirt offers your kids the perfect balance between the comfort of cotton and the quick drying of polyester. With added style!
---
Color : GREEN


3 Years Online stock 3
4 Years Online stock 88
5 Years Online stock 58
6 Years Online stock 101
2 Years Online stock 0
3 Years Online stock 63
4 Years Online stock 98
5 Years Online stock 118
6 Years Online stock 102
Home Delivery - : Between 3 and 5 days.
Pick up in-store
Service not available
Home Delivery -
Select Your Location
FREE for orders above HKD499
Currently not available online. Check the stock in stores on product page. Check stock in stores !
Our Stores
Notify me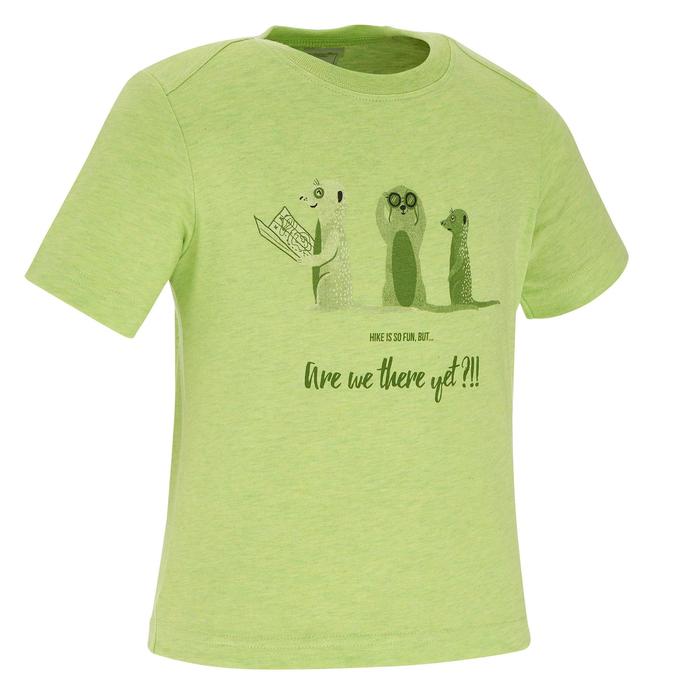 Your request has been registered
You will receive a notification at :
­
Please validate the captcha
Products benefits
Quick drying
Quick drying guaranteed for budding hikers, thanks to a polyester mix.
Freedom of movement
With its mesh fabric, it is naturally stretchy and comfortable.
Durability
Guarantee 2 years.
Easy maintenance
Machine wash at 40°C, air dry or tumble dry on medium heat.
Technical information
Durability of the components
Resistance to wear and impact test: for example, we check that the fleeces do not pill using tests conducted in laboratories. Colour retention test: the colour fastness is verified to make sure that the colours do not bleed when coming into contact with saliva. Ageing test: repeated washing must not affect the properties of the fabric, its behaviour, thickness or appearance.
Environmental measures
Selection of dyes that respect humans and the environment. Waste water processing takes place in all our textile dyeing plants.
Product concept & technology
STORAGE ADVICE
Store on a hanger or folded in a clean, dry place.
TESTS
Our design team is based at the foot of Mont-Blanc, in Haute-Savoie (France). All year round, we create and develop products that are beautiful, simple and technologically advanced. These are then ruthlessly tested in the field, as we remain convinced that only through rigorous testing under real world conditions, like the ones you will be using them in, can we continue to provide you with better products than ever.
Product Composition
Main fabric : 74.0% Cotton, Main fabric : 26.0% Polyester (PES) Yoke (General) : 95.0% Cotton, Yoke (General) : 5.0% Elasthane
Main fabric : 74.0% Cotton, Main fabric : 26.0% Polyester (PES) Yoke (General) : 95.0% Cotton, Yoke (General) : 5.0% Elasthane
Main fabric : 74.0% Cotton, Main fabric : 26.0% Polyester (PES) Yoke (General) : 95.0% Cotton, Yoke (General) : 5.0% Elasthane
Main fabric : 74.0% Cotton, Main fabric : 26.0% Polyester (PES) Yoke (General) : 95.0% Cotton, Yoke (General) : 5.0% Elasthane
Main fabric : 74.0% Cotton, Main fabric : 26.0% Polyester (PES) Yoke (General) : 95.0% Cotton, Yoke (General) : 5.0% Elasthane
Main fabric : 74.0% Cotton, Main fabric : 26.0% Polyester (PES) Yoke (General) : 95.0% Cotton, Yoke (General) : 5.0% Elasthane
Main fabric : 74.0% Cotton, Main fabric : 26.0% Polyester (PES) Yoke (General) : 95.0% Cotton, Yoke (General) : 5.0% Elasthane
Main fabric : 74.0% Cotton, Main fabric : 26.0% Polyester (PES) Yoke (General) : 95.0% Cotton, Yoke (General) : 5.0% Elasthane
Main fabric : 74.0% Cotton, Main fabric : 26.0% Polyester (PES) Yoke (General) : 95.0% Cotton, Yoke (General) : 5.0% Elasthane
Main fabric : 74.0% Cotton, Main fabric : 26.0% Polyester (PES) Yoke (General) : 95.0% Cotton, Yoke (General) : 5.0% Elasthane
Main fabric : 74.0% Cotton, Main fabric : 26.0% Polyester (PES) Yoke (General) : 95.0% Cotton, Yoke (General) : 5.0% Elasthane
Main fabric : 74.0% Cotton, Main fabric : 26.0% Polyester (PES) Yoke (General) : 95.0% Cotton, Yoke (General) : 5.0% Elasthane
Main fabric : 74.0% Cotton, Main fabric : 26.0% Polyester (PES) Yoke (General) : 95.0% Cotton, Yoke (General) : 5.0% Elasthane
Main fabric : 74.0% Cotton, Main fabric : 26.0% Polyester (PES) Yoke (General) : 95.0% Cotton, Yoke (General) : 5.0% Elasthane