Play Kids' Inline Skate Skateboard and Scooter Protectors Set of 3 - Blue/Red
Product Code : 14777 8370355
Our team of roller skating fans has developed this set of roller skating pads. Your child can learn to skate comfortably and safely.
Is your child just learning to skate? To help them safely and comfortably find their feet on four wheels, we've come up with this set of elbow, knee and wrist protectors.
---
Color : Deep indigo/RED





2XS Online stock 328
XS Online stock 330
S Online stock 0
2XS Online stock 146
XS Online stock 153
S Online stock 115
2XS Online stock 231
XS Online stock 102
2XS Online stock 118
XS Online stock 66
S Online stock 0
2XS Online stock 260
XS Online stock 26
S Online stock 0
2XS Online stock 42
XS Online stock 38
S Online stock 27
Home Delivery : Between 3 and 5 days
Pick up in-store
Service not available
Home Delivery
Select Your Location
FREE for orders above HKD499
Currently not available online. Click to check the stock in stores. Check stock in stores !
Our Stores
Notify me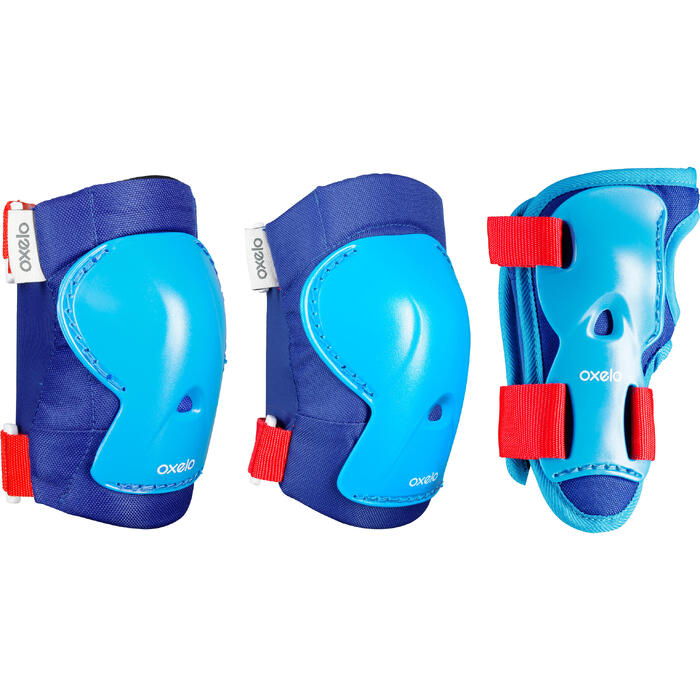 Your request has been registered
You will receive a notification at :
­
Please validate the captcha
Products benefits
Impact protection
The plastic shells and foam pads protect your child.
Adjustable
Elasticated rip-tabs making it easy to adjust the size.
User comfort
Stretchy Lycra fabric for a snug fit.
Anatomic design
The stretch fabric means that the knee and elbow pads fit well.
How to wear the wrist guards
Wear the wrist protector with the plastic shell over the palm of your hand. There are right (R) and left (L) markers on each wrist guard. So skating will help your child learn their left and right!
Which protection size should you choose?
Kids all grow at their own pace. This is why our size guide is based on your child's age and weight:
XXS: kids aged 3 to 7, or less than 25 kg
XS: kids aged 6 to 10, or 20 to 35 kg
S: kids aged 9 to 15, or less than 50 kg
And just to make sure, why not try the products out in one of our stores?
What is the EN 14120 standard?
This European standard sets out requirements and testing methods for ergonomics, safety, comfort, fit, durability, abrasion and impact performance for wrist, palm, knee and elbow protectors for all users of roller sports equipment. The safety and comfort of novice riders is our main concern, so it's right up our street!
product.productCharacteristic.Warranty.title
2 years
product.productCharacteristic.Weight.title
0.421kg in size XS
Product concept & technology
Maintenance advice
Hand wash, do not tumble dry, do not iron.
User Restrictions
Not for hockey, aggressive or skatepark use. Max weight: 50 kg.
Product Composition
Outer fabric : 100.0% Polyester (PES) Protection cover : 100.0% Polyéthylène (PE) Foam : 100.0% Foamed EVA
Outer fabric : 100.0% Polyester (PES) Protection cover : 100.0% Polyéthylène (PE) Foam : 100.0% Foamed EVA
Outer fabric : 100.0% Polyester (PES) Protection cover : 100.0% Polyéthylène (PE) Foam : 100.0% Foamed EVA
Outer fabric : 100.0% Polyester (PES) Protection cover : 100.0% Polyéthylène (PE) Foam : 100.0% Foamed EVA
Outer fabric : 100.0% Polyester (PES) Protection cover : 100.0% Polyéthylène (PE) Foam : 100.0% Foamed EVA
Outer fabric : 100.0% Polyester (PES) Protection cover : 100.0% Polyéthylène (PE) Foam : 100.0% Foamed EVA
Outer fabric : 100.0% Polyester (PES) Protection cover : 100.0% Polyéthylène (PE) Foam : 100.0% Foamed EVA
Outer fabric : 100.0% Polyester (PES) Protection cover : 100.0% Polyéthylène (PE) Foam : 100.0% Foamed EVA
Outer fabric : 100.0% Polyester (PES) Protection cover : 100.0% Polyéthylène (PE) Foam : 100.0% Foamed EVA
Outer fabric : 100.0% Polyester (PES) Protection cover : 100.0% Polyéthylène (PE) Foam : 100.0% Foamed EVA
Outer fabric : 100.0% Polyester (PES) Protection cover : 100.0% Polyéthylène (PE) Foam : 100.0% Foamed EVA
Outer fabric : 100.0% Polyester (PES) Protection cover : 100.0% Polyéthylène (PE) Foam : 100.0% Foamed EVA
Outer fabric : 100.0% Polyester (PES) Protection cover : 100.0% Polyéthylène (PE) Foam : 100.0% Foamed EVA
Outer fabric : 100.0% Polyester (PES) Protection cover : 100.0% Polyéthylène (PE) Foam : 100.0% Foamed EVA
Outer fabric : 100.0% Polyester (PES) Protection cover : 100.0% Polyéthylène (PE) Foam : 100.0% Foamed EVA
Outer fabric : 100.0% Polyester (PES) Protection cover : 100.0% Polyéthylène (PE) Foam : 100.0% Foamed EVA
Outer fabric : 100.0% Polyester (PES) Protection cover : 100.0% Polyéthylène (PE) Foam : 100.0% Foamed EVA
Outer fabric : 100.0% Polyester (PES) Protection cover : 100.0% Polyéthylène (PE) Foam : 100.0% Foamed EVA
Outer fabric : 100.0% Polyester (PES) Protection cover : 100.0% Polyéthylène (PE) Foam : 100.0% Foamed EVA
product.InfoConceptTechnology.maintenancePicture.label

Hand wash

Do not bleach

Do not tumble dry

Do not iron

Do not dry-clean