RoadC 900 Cycling Gloves - Black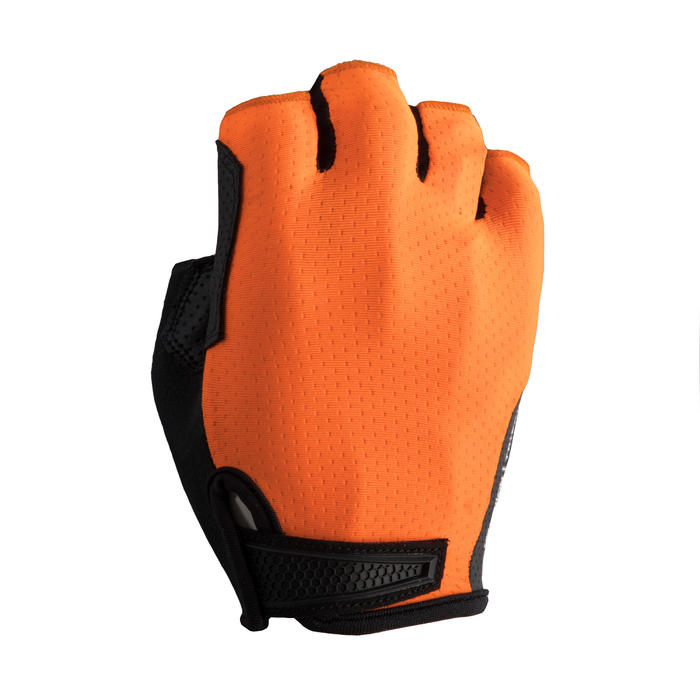 Mittens - Evaluation of the entire life cycle of the product, its impact on the environment, including climate change and the depletion of natural resources.
Know more
RoadCycling 900 Cycling Gloves - Neon Orange
Product Code : 176731 8528194
Our clothing design teams have developed these road bike gloves for all of your summer rides. They are very comfortable thanks to the padding on the palm.
Gloves designed to keep you comfortable as you cycle thanks to the Poron Xrd inserts and anti-slip fabric for good grip on the handlebars.
---
Color : Fluo orange


Size
XS Online stock 0
S Online stock 0
M Online stock 0
L Online stock 0
XL Online stock 0
2XL Online stock 0
3XL Online stock 0
S Online stock 0
M Online stock 0
L Online stock 0
XL Online stock 0
Home Delivery :
---
FREE Standard Home Delivery for orders above $499
Add $80 for Same Day Delivery
Pick up in-store
Service not available
Home Delivery
Select Your Location
FREE for orders above HKD499
Currently not available online. Click to check the stock in stores. Check stock in stores !
Our Stores
Notify me
Your request has been registered
You will receive a notification at :
Please validate the captcha
Size Guide
Products benefits
Cushioning
Poron Xrd inserts on the palms of the gloves.
User comfort
Adjustable thanks to the rip-tab strips to adjust the tightness at the wrist.
Easy dressing
2 lugs on the back of the ring and middle fingers to make them easy to remove.
Breathability
Mesh fabric to allow air to circulate more easily.
Stretch
Stretch fabric on the back of the hand adapts to different morphologies.
Grip
The fabric on the palm has a rubberised feel for good grip.
What is Poron Xrd fabric?
Developed by the Roger Corporation, Poron XRD M-Guard is a lightweight, supple fabric used to absorb impacts.
Absorbs over 90% of energy when subjected to elevated deformation speeds.
Product concept & technology
Product Composition
Palm : 100.0% Polyamide Coating : 100.0% Polyurethane Back of the hand : 84.0% Polyester, Back of the hand : 16.0% Elasthane Yoke : 76.0% Polyamide, Yoke : 24.0% Elasthane Thumb : 94.0% Polyester, Thumb : 6.0% Elasthane
Palm : 100.0% Polyamide Coating : 100.0% Polyurethane Back of the hand : 84.0% Polyester, Back of the hand : 16.0% Elasthane Yoke : 76.0% Polyamide, Yoke : 24.0% Elasthane Thumb : 94.0% Polyester, Thumb : 6.0% Elasthane
Palm : 100.0% Polyamide Coating : 100.0% Polyurethane Back of the hand : 84.0% Polyester, Back of the hand : 16.0% Elasthane Yoke : 76.0% Polyamide, Yoke : 24.0% Elasthane Thumb : 94.0% Polyester, Thumb : 6.0% Elasthane
Palm : 100.0% Polyamide Coating : 100.0% Polyurethane Back of the hand : 84.0% Polyester, Back of the hand : 16.0% Elasthane Yoke : 76.0% Polyamide, Yoke : 24.0% Elasthane Thumb : 94.0% Polyester, Thumb : 6.0% Elasthane
Palm : 100.0% Polyamide Coating : 100.0% Polyurethane Back of the hand : 84.0% Polyester, Back of the hand : 16.0% Elasthane Yoke : 76.0% Polyamide, Yoke : 24.0% Elasthane Thumb : 94.0% Polyester, Thumb : 6.0% Elasthane
Palm : 100.0% Polyamide Coating : 100.0% Polyurethane Back of the hand : 84.0% Polyester, Back of the hand : 16.0% Elasthane Yoke : 76.0% Polyamide, Yoke : 24.0% Elasthane Thumb : 94.0% Polyester, Thumb : 6.0% Elasthane
Palm : 100.0% Polyamide Coating : 100.0% Polyurethane Back of the hand : 84.0% Polyester, Back of the hand : 16.0% Elasthane Yoke : 76.0% Polyamide, Yoke : 24.0% Elasthane Thumb : 94.0% Polyester, Thumb : 6.0% Elasthane
Palm : 100.0% Polyamide Coating : 100.0% Polyurethane Back of the hand : 84.0% Polyester, Back of the hand : 16.0% Elasthane Yoke : 76.0% Polyamide, Yoke : 24.0% Elasthane Thumb : 94.0% Polyester, Thumb : 6.0% Elasthane
Palm : 100.0% Polyamide Coating : 100.0% Polyurethane Back of the hand : 84.0% Polyester, Back of the hand : 16.0% Elasthane Yoke : 76.0% Polyamide, Yoke : 24.0% Elasthane Thumb : 94.0% Polyester, Thumb : 6.0% Elasthane
Palm : 100.0% Polyamide Coating : 100.0% Polyurethane Back of the hand : 84.0% Polyester, Back of the hand : 16.0% Elasthane Yoke : 76.0% Polyamide, Yoke : 24.0% Elasthane Thumb : 94.0% Polyester, Thumb : 6.0% Elasthane
Palm : 100.0% Polyamide Coating : 100.0% Polyurethane Back of the hand : 84.0% Polyester, Back of the hand : 16.0% Elasthane Yoke : 76.0% Polyamide, Yoke : 24.0% Elasthane Thumb : 94.0% Polyester, Thumb : 6.0% Elasthane
Palm : 100.0% Polyamide Coating : 100.0% Polyurethane Back of the hand : 84.0% Polyester, Back of the hand : 16.0% Elasthane Yoke : 76.0% Polyamide, Yoke : 24.0% Elasthane Thumb : 94.0% Polyester, Thumb : 6.0% Elasthane
Palm : 100.0% Polyamide Coating : 100.0% Polyurethane Back of the hand : 84.0% Polyester, Back of the hand : 16.0% Elasthane Yoke : 76.0% Polyamide, Yoke : 24.0% Elasthane Thumb : 94.0% Polyester, Thumb : 6.0% Elasthane
Palm : 100.0% Polyamide Coating : 100.0% Polyurethane Back of the hand : 84.0% Polyester, Back of the hand : 16.0% Elasthane Yoke : 76.0% Polyamide, Yoke : 24.0% Elasthane Thumb : 94.0% Polyester, Thumb : 6.0% Elasthane
Palm : 100.0% Polyamide Coating : 100.0% Polyurethane Back of the hand : 84.0% Polyester, Back of the hand : 16.0% Elasthane Yoke : 76.0% Polyamide, Yoke : 24.0% Elasthane Thumb : 94.0% Polyester, Thumb : 6.0% Elasthane
Palm : 100.0% Polyamide Coating : 100.0% Polyurethane Back of the hand : 84.0% Polyester, Back of the hand : 16.0% Elasthane Yoke : 76.0% Polyamide, Yoke : 24.0% Elasthane Thumb : 94.0% Polyester, Thumb : 6.0% Elasthane
Palm : 100.0% Polyamide Coating : 100.0% Polyurethane Back of the hand : 84.0% Polyester, Back of the hand : 16.0% Elasthane Yoke : 76.0% Polyamide, Yoke : 24.0% Elasthane Thumb : 94.0% Polyester, Thumb : 6.0% Elasthane
PRODUCT MAINTENANCE

Machine wash - 30° max - normal

Do not bleach

Do not tumble dry

Do not iron

Do not dry-clean