ROCK JUNIOR Climbing Shoes
Product Code : 8900 8240895
Designed for big wall, indoor climbing or bouldering.
wide opening making it easy to slip on
---
Color : Acid green/Pewter/BLACK
UK C9.5 - EU 28 Online stock 0
UK C10.5 - EU 29 Online stock 0
UK C11.5 - EU 30 Online stock 0
UK C12 - EU 31 Online stock 0
UK C13 - EU 32 Online stock 0
UK 1 - EU 33 Online stock 0
UK 1.5 - EU 34 Online stock 0
UK 2.5 - EU 35 Online stock 0
Home Delivery : Between 3 and 5 days.
Pick up in-store
Service not available
Home Delivery
Select Your Location
FREE for orders above HKD499
Currently not available online. Check the stock in stores on product page. Check stock in stores !
Our Stores
Notify me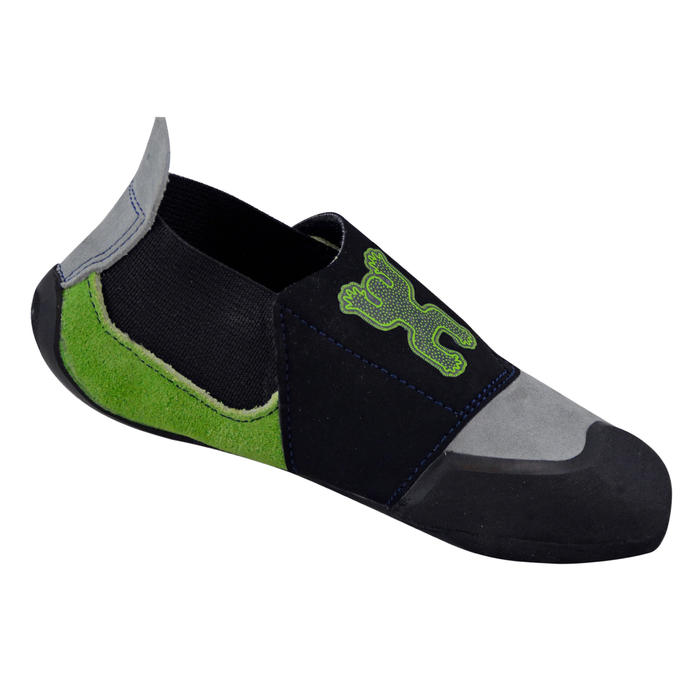 Your request has been registered
You will receive a notification at :
­
Please validate the captcha
Products benefits
Anatomic design
Elasticated heel enables child to keep climbing shoe for longer.
Easy dressing
Wide opening at the instep so they're easier to slip on.
Fitting comfort
Climbing shoes are made of leather to ensure child's foot is comfortable.
Product concept & technology
Product Composition
Outer sole of : 100.0% Rubber - Synthetic Upper of : 70.0% Leather - Cow, Upper of : 20.0% Polyurethane (PU), Upper of : 10.0% Elasthane Lining and sock of : 90.0% Leather - Bovine - Split, Lining and sock of : 10.0% Elasthane
Outer sole of : 100.0% Rubber - Synthetic Upper of : 70.0% Leather - Cow, Upper of : 20.0% Polyurethane (PU), Upper of : 10.0% Elasthane Lining and sock of : 90.0% Leather - Bovine - Split, Lining and sock of : 10.0% Elasthane
Outer sole of : 100.0% Rubber - Synthetic Upper of : 70.0% Leather - Cow, Upper of : 20.0% Polyurethane (PU), Upper of : 10.0% Elasthane Lining and sock of : 90.0% Leather - Bovine - Split, Lining and sock of : 10.0% Elasthane
Outer sole of : 100.0% Rubber - Synthetic Upper of : 70.0% Leather - Cow, Upper of : 20.0% Polyurethane (PU), Upper of : 10.0% Elasthane Lining and sock of : 90.0% Leather - Bovine - Split, Lining and sock of : 10.0% Elasthane
Outer sole of : 100.0% Rubber - Synthetic Upper of : 70.0% Leather - Cow, Upper of : 20.0% Polyurethane (PU), Upper of : 10.0% Elasthane Lining and sock of : 90.0% Leather - Bovine - Split, Lining and sock of : 10.0% Elasthane
Outer sole of : 100.0% Rubber - Synthetic Upper of : 70.0% Leather - Cow, Upper of : 20.0% Polyurethane (PU), Upper of : 10.0% Elasthane Lining and sock of : 90.0% Leather - Bovine - Split, Lining and sock of : 10.0% Elasthane
Outer sole of : 100.0% Rubber - Synthetic Upper of : 70.0% Leather - Cow, Upper of : 20.0% Polyurethane (PU), Upper of : 10.0% Elasthane Lining and sock of : 90.0% Leather - Bovine - Split, Lining and sock of : 10.0% Elasthane
Outer sole of : 100.0% Rubber - Synthetic Upper of : 70.0% Leather - Cow, Upper of : 20.0% Polyurethane (PU), Upper of : 10.0% Elasthane Lining and sock of : 90.0% Leather - Bovine - Split, Lining and sock of : 10.0% Elasthane