Trekking 3 Seasons Freestanding 3-Person Tent Trek 500 - Grey orange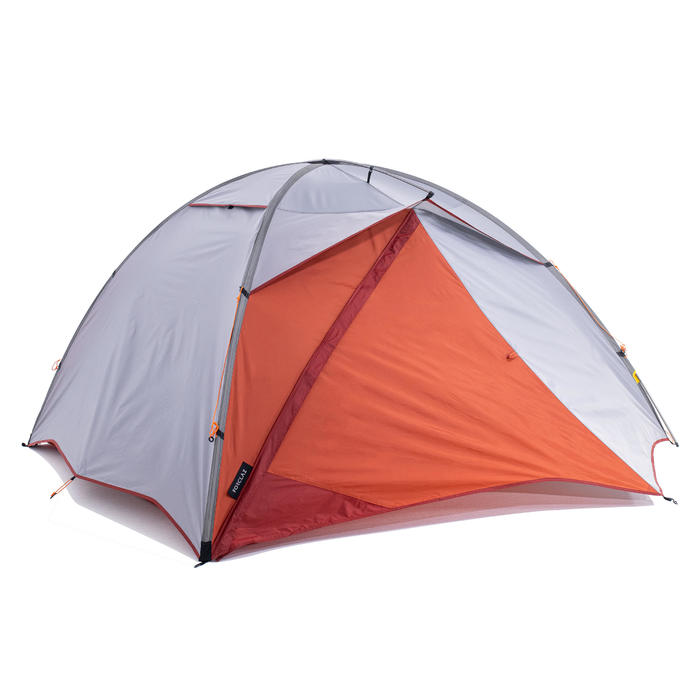 Tent - Evaluation of the entire life cycle of the product, its impact on the environment, including climate change and the depletion of natural resources.
Know more
Trekking 3 Seasons Freestanding 3-Person Tent Trek 500 - Grey orange
Our team of mounted trekking enthusiasts imagined this pre-assembled tent for 3 people seeking low weight and habitability (2 side porches)
A simple & practical, lightweight & compact tent that offers good habitability for 3 people. 2 doors. 2 porches (storage areas). Camp comfortably in 3 seasons mode.
---
Unique size Online stock 45
Delivery : Available
Pick up in-store
Service not available
Stores located in Hong Kong Island

Select your location
Causeway Bay
Central
Kowloon Bay
Ma On Shan C&C
Mong Kok
Sha Tin
Tseung Kwan O
Delivery
Select Your Location
FREE for orders above HKD499
Currently not available online. Click to check the stock in stores. Check stock in stores !
Our Stores
Notify me
Your request has been registered
You will receive a notification at :
Please validate the captcha
Products benefits
Wind resistance
Resists 70 km/h winds (Force 8): certified in wind tunnel with turntable.
Easy transport
Total weight 3.55 kg Compression bag: 12.5 L Dimensions 39x18x18 cm
Capacity
Width of 60 cm/person. Bedroom height 119 cm. 2 doors, 2 porches, 3 pockets.
Easy assembly / dismantling
Self-standing dome Quick: pre-assembled bedroom and flysheet. Standard poles
Waterproof
Water column (Schmerber): Flysheet > 2000 mm. Groundsheet > 5000 mm.
Eco-design
We dye 1 out of 2 threads to reduce the env. impact. Non anodised pegs.
Heat reduction
Doors and bedroom with mosquito nets. Two-way zip on the door.
Darkness
Fabric lets daylight through.
Weight
Total weight 3.55 kg
Flysheet alone 1300 g
Bedroom only 1110 g
Tent pole kit 800 g
Tent pegs (12 items) 180 g
Bags 90 g 20 g
Repair (ferrule, patch): 23 g
To preserve your product and improve ground and weather protection, you can add a survival blanket type groundsheet to your Trek 500 3P tent.
Weights, volumes & dimensions may vary slightly due to production tolerances.
Dimensions and habitability
Length of the room 220 cm
Width 180 cm
Inside height 119 cm (at the highest point)
Total height of the tent 128 cm
Two 60 cm deep side porches (storage space between the bedroom and the flysheet) that can accommodate the backpacks (from 50 to 70 L) of three occupants, mountain equipment and hiking boots.
3 pockets in the room. 1 inside top hook to hang a lamp and an adjustable clothes line across the tent.
Architecture, tent poles and tent pegs
7001 aluminium poles. Ø 8.5 mm dome; top tent pole Ø 9.5 mm.
Lightness and strength of aluminium.
Tent pegs:
Length 17 cm, Ø 6.1 mm.
Non-anodised 7075 aluminium for maximum strength and lightness while lowering the environmental impact.
Traditional dome shape that makes the structure free-standing and gives it good durability. An upper tent pole provides additional volume, making it more habitable.
Pitching/folding
Extremely quick pitching or striking.
The flysheet and bedroom are pre-assembled. You then need to insert the tent pole in the sleeves of the flysheet (colour code). Striking is equally quick to complete.
To store the tent in its bag, just fold up the tent until it is as wide as the bag, fold up the tent poles into a bundle and place them on the bedroom or the flysheet, and roll everything up into a small bundle to fit it all in the bag.
Waterproofing
Forclaz tents are validated in the laboratory: pitched tent, 200 L/m²/h for 4 hours, ie equivalent to a tropical shower. They are also tested by a panel of users in the field.
75 denier polyester flysheet, polyurethane-coated (interior) water-repellent treatment (exterior), P75D groundsheet in the bedroom.
Seams sealed with thermo-bonded strips.
Multi-component bedroom (P66D) that is breathable, provides protection from the wind and reduces condensation.
Wind resistance
We test all our tents in a wind tunnel on a rotating platform where we can expose each side of the tent to the wind.
To guarantee its wind resistance, the tent must be properly pitched, taut but not stretched, with all the guy ropes in position around the tent. It should remain habitable at wind speeds of 70km/h, measured near ground level.
Our tents are certified by the independent CSTB laboratory in Nantes.
Ventilation and condensation prevention
Bedroom with mosquito screen for ventilation and water-repellent fabric to protect from condensation and draughts. There is good ventilation at the front of the tent and ventilation at the feet.
To limit condensation inside the tent, it must be correctly assembled, canvas taut, but not excessively so. The use of ventilation and good air circulation limits the humidity inside.
Repairs and after-sales
As designers and users who love our field, we care about the durability of our products, which is why all our tents are designed to be repairable.
You will find spare parts (poles, bedrooms, etc) in store or in your Decathlon store's workshop, on our website or via e-mail support.decathlon.com
In the event of a problem, you can have your tent inspected in your Decathlon store.
Repair kit (ferrule, patch): 20 g
Seasons
3-season tent: your tent will protect you from the harsh weather conditions you would encounter in the spring, summer or autumn. It will support light snowfall but is not designed to withstand heavy loads that would weigh on the structure.
In case of snow, remember to shake your tent regularly to cause accumulated snow to fall off on the ground and avoid putting too much weight on the structure of your tent.
Eco-designed tent
We chose to use a thread known as "biton" in some fabrics of this tent.
Textile dyeing requires a lot of water but also produces waste water from the dye baths. To reduce this impact on the environment, we use only one mass-dyed yarn out of every two and thereby reduce our consumption and our impact on water.
Eco design tent (continued)
The tent pegs are not anodised. We have stopped using nitric and phosphoric acids to fix the colour because its only function is to make them look aesthetically pleasing.
Your tent pegs can have an "untreated" or "used" appearance but they retain all their technical characteristics and strength.
These actions help to reduce the environmental impact of your product.
Warranty
5 years. All our tents are repairable. Parts and information in store or on the website.
Weight
3.55 kg
Total weight
Product concept & technology
Product Composition
Inside room 80% Polyester, 20% Thermoplastic Polyurethane Main fabric 80% Polyester, 20% Thermoplastic Polyurethane Pole 100% Aluminium
Maintenance advice
Hand wash. Dry in the open air.
STORAGE ADVICE
After use or cleaning, do not store your tent until it is perfectly dry to prevent odours and mould forming.
TESTS
The waterproofing of Forclaz tents is validated, tent pitched, under 200 litres of water/m²/hr (tropical rain) for 4 hours, excluding any water passing through seams, flaps, openings, zips, etc. The water column test (=mm Schmerber) measures the impermeability of the fabric. We test all our tents in a wind tunnel on a turntable on all four sides. We also perform tests on the components (abrasion, tearing, perforation etc).
User Restrictions
For more comfort, use three mummy-shaped mattresses.
PRODUCT MAINTENANCE

Do not wash

Do not bleach

Do not tumble dry

Do not iron

Do not dry-clean
Approved By
This tent has been tested and validated in the field in genuine conditions. It was worn for 5 weeks by several people who went trekking in the Canary Islands for 2 weeks, followed by 3 weeks on the GR10 trails in the Pyrenees.