TS760 Kids' Tennis Shoes - Grey
Product Code : 127245 8365453
Designed for children learning or occasionally playing tennis and school sports on any surface.
A versatile tennis shoe with rip-tabs / laces. Trainers with a very durable and non-marking rubber sole and reinforcement. Perfect for active children!
---
Color : Charcoal grey/Pale grey
UK C9.5 - EU 28 Online stock 6
UK C10.5 - EU 29 Online stock 8
UK C11.5 - EU 30 Online stock 47
UK C12 - EU 31 Online stock 74
UK C13 - EU 32 Online stock 82
UK 1 - EU 33 Online stock 90
UK 1.5 - EU 34 Online stock 104
UK 2.5 - EU 35 Online stock 84
UK 3 - EU 36 Online stock 104
UK 4 - EU 37 Online stock 80
UK 5 - EU 38 Online stock 79
Home Delivery : Between 3 and 5 days.
Pick up in-store
Service not available
Home Delivery
Select Your Location
FREE for orders above HKD499
Currently not available online. Check the stock in stores on product page. Check stock in stores !
Our Stores
Notify me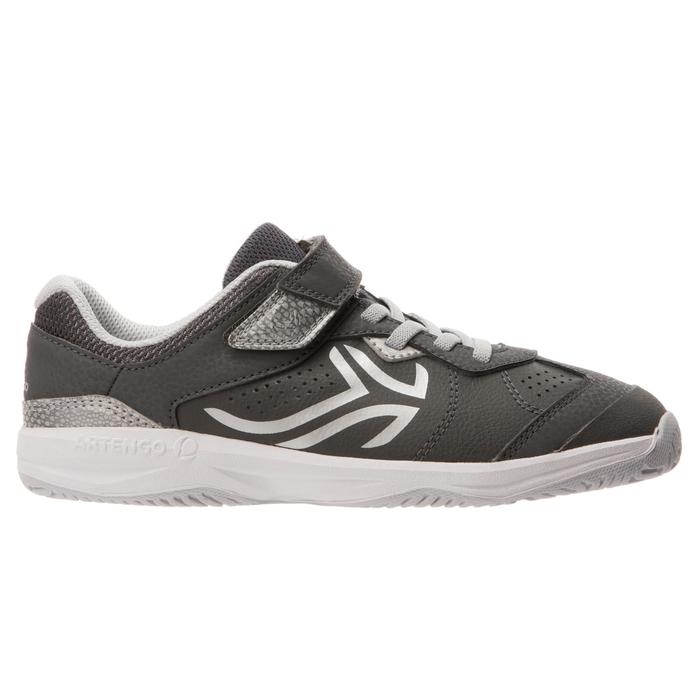 Your request has been registered
You will receive a notification at :
­
Please validate the captcha
Products benefits
Abrasion resistance
Rubber outsole and forefoot reinforcement that stands up to wear and tear.
Easy dressing
Rip-tabs & elasticated laces to help your child do it on his or her own
Fit
Reinforced upper and heel stiffener for better foot stability.
Easy dressing
The rip-tabs/elastic laces let your children fasten their shoes on their own.
This system was particularly popular among our team of child testers and their parents!
Breathability
Mesh tongue and perforations on the upper provide good ventilation.
Mesh is a synthetic material that makes shoes breathable and lightweight.
product.productCharacteristic.Warranty.title
2 years
Product concept & technology
STORAGE ADVICE
Make sure to regularly air out your shoes and store them in a dry place.
TESTS
Before being used on the tennis courts, our shoes are put through several tests. Lab tests are done to approve the following elements: tearing eyelets and straps, abrasion resistance of outsole and upper components, accelerated ageing, gluing, toxicology, UV resistance. Field tests are carried out in real game conditions by highly active children and serve to approve our products for tennis use and school sports.
Product Composition
Upper of : 90.0% Polyurethane (PU), Upper of : 5.0% Polyester (PES), Upper of : 5.0% Rubber - Synthetic Outer sole of : 100.0% Rubber - Synthetic Lining and sock of : 100.0% Polyester (PES)
Upper of : 90.0% Polyurethane (PU), Upper of : 5.0% Polyester (PES), Upper of : 5.0% Rubber - Synthetic Outer sole of : 100.0% Rubber - Synthetic Lining and sock of : 100.0% Polyester (PES)
Upper of : 90.0% Polyurethane (PU), Upper of : 5.0% Polyester (PES), Upper of : 5.0% Rubber - Synthetic Outer sole of : 100.0% Rubber - Synthetic Lining and sock of : 100.0% Polyester (PES)
Upper of : 90.0% Polyurethane (PU), Upper of : 5.0% Polyester (PES), Upper of : 5.0% Rubber - Synthetic Outer sole of : 100.0% Rubber - Synthetic Lining and sock of : 100.0% Polyester (PES)
Upper of : 90.0% Polyurethane (PU), Upper of : 5.0% Polyester (PES), Upper of : 5.0% Rubber - Synthetic Outer sole of : 100.0% Rubber - Synthetic Lining and sock of : 100.0% Polyester (PES)
Upper of : 90.0% Polyurethane (PU), Upper of : 5.0% Polyester (PES), Upper of : 5.0% Rubber - Synthetic Outer sole of : 100.0% Rubber - Synthetic Lining and sock of : 100.0% Polyester (PES)
Upper of : 90.0% Polyurethane (PU), Upper of : 5.0% Polyester (PES), Upper of : 5.0% Rubber - Synthetic Outer sole of : 100.0% Rubber - Synthetic Lining and sock of : 100.0% Polyester (PES)
Upper of : 90.0% Polyurethane (PU), Upper of : 5.0% Polyester (PES), Upper of : 5.0% Rubber - Synthetic Outer sole of : 100.0% Rubber - Synthetic Lining and sock of : 100.0% Polyester (PES)
Upper of : 90.0% Polyurethane (PU), Upper of : 5.0% Polyester (PES), Upper of : 5.0% Rubber - Synthetic Outer sole of : 100.0% Rubber - Synthetic Lining and sock of : 100.0% Polyester (PES)
Upper of : 90.0% Polyurethane (PU), Upper of : 5.0% Polyester (PES), Upper of : 5.0% Rubber - Synthetic Outer sole of : 100.0% Rubber - Synthetic Lining and sock of : 100.0% Polyester (PES)
Upper of : 90.0% Polyurethane (PU), Upper of : 5.0% Polyester (PES), Upper of : 5.0% Rubber - Synthetic Outer sole of : 100.0% Rubber - Synthetic Lining and sock of : 100.0% Polyester (PES)
Upper of : 90.0% Polyurethane (PU), Upper of : 5.0% Polyester (PES), Upper of : 5.0% Rubber - Synthetic Outer sole of : 100.0% Rubber - Synthetic Lining and sock of : 100.0% Polyester (PES)
Upper of : 90.0% Polyurethane (PU), Upper of : 5.0% Polyester (PES), Upper of : 5.0% Rubber - Synthetic Outer sole of : 100.0% Rubber - Synthetic Lining and sock of : 100.0% Polyester (PES)
Upper of : 90.0% Polyurethane (PU), Upper of : 5.0% Polyester (PES), Upper of : 5.0% Rubber - Synthetic Outer sole of : 100.0% Rubber - Synthetic Lining and sock of : 100.0% Polyester (PES)