Women's Country Walking Waterproof Over-Trousers Raincut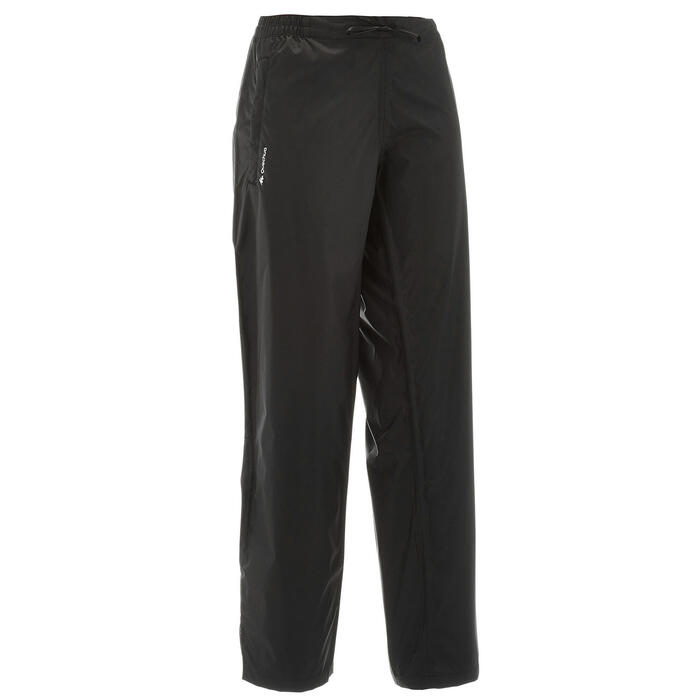 Overtrousers - Evaluation of the entire life cycle of the product, its impact on the environment, including climate change and the depletion of natural resources.
Know more
Women's Country Walking Waterproof Over-Trousers Raincut
Our hiker designers designed these waterproof and eco-friendly Raincut over-trousers.In case of rain for your occasional walks.
Slipped into the bottom of the bag, these hiking over-trousers offer full protection in case of rain and match the waterproof jacket! A waterproof, compact & breathable model.
---
Color : BLACK
Size
2XS W24 L30 Online stock 2
XS W26 L30 Online stock 3
S W28 L31 Online stock 1
M W30 L31 Online stock 1
L W33 L31 Online stock 2
XL W35 L31 Online stock 1
Size as expected (40%)
40 %
of users say this fits As expected
Our customers evaluate the size
Delivery : Available
Pick up in-store
Service not available
Stores located in Hong Kong Island

Select your location
Causeway Bay
Central
Kowloon Bay
Ma On Shan C&C
Mong Kok
Sha Tin
Tseung Kwan O
Delivery
Select Your Location
FREE for orders above HKD499
Currently not available online. Click to check the stock in stores. Check stock in stores !
Our Stores
Notify me
Your request has been registered
You will receive a notification at :
Please validate the captcha
Size Guide
Cover all for your practice
Women's Country Walking Waterproof Over-Trousers Raincut
+
Women's Waterproof Mountain Walking Jacket - MH500
+
WATERPROOF MOUNTAIN HIKING SHOES - MH500 - BLUE/YELLOW - WOMEN
Products benefits
Waterproof
Waterproof coating (2,000 mm), fully taped seams
Easy transport
1 closing pocket|Lightweight and compact| Folds away in its pocket for transport
Eco-design
We reduced the environmental impact by dyeing the yarn at the source
Anatomic design
Drawstring at the waist | Bottom of trousers tightened with a rip-tab
Breathability
Hydrophilic coating (RET=12): limits condensation inside the garment
Lightweight
Lightweight and compact overtrousers | Weight: 165 g in size M
What we've done to reduce our environmental impact
We take care of our planet to preserve nature and help preserve the pleasure of hiking. Textile dyeing requires a lot of water and also produces waste water from the dye baths. To reduce this environmental impact, we chose to use a bulk-dyeing process that incorporates the colour pigments from the yarn manufacturing phase onwards.

A score for comparing products' environmental impact
On a scale of A to E, this jacket obtained a score of B.
The environmental impacts of our products are calculated over their entire life cycle. A score is attributed to each product so that you can easily identify the most eco-friendly products within a particular family.
Decathlon is a voluntary supporter of this environmentally-friendly labelling approach.
Waterproofing of the garment
This garment has been validated in a shower test under 60 litres of water/sqm/hour for 2 hours. This test reproduces the average conditions of a rain shower. The fabric of these overtrousers has water-repellent properties: it lets water slide over its surface without seeping in. This prevents the fabric from soaking up water and keeps it lightweight and breathable. The water repellent property is achieved by treating the fabric's exterior. What's more, all the seams are taped.
How to ensure your overtrousers stay waterproof over time
In order to maintain good waterproofing over time, the fabric's water-repellent properties must be restored regularly. We recommend doing this every three washes or after a dozen uses in the rain. The waterproof property is easily reactivated by warming the fabric: either in your tumble dryer or with a hair dryer, for example, over a relatively short period. If you are washing it, it must be thoroughly rinsed.
Waterproof rating expressed in mm or schmerber
We measure a fabric's resistance to water pressure, expressed in terms of the height of a water column in mm (based on the ISO 811 standard). The higher the water pressure, the more waterproof the fabric. A component with a waterproof rating of 2,000 mm can therefore withstand the pressure exerted by a 2,000 mm water column.
Component breathability
To find out whether a fabric is breathable, we measure its thermal evaporative resistance coefficient (RET) based on the ISO 11092 standard. The lower the fabric's resistance, the more water vapour generated by physical activity can escape, and the higher the fabric's breathability.
- RET < 9 = extremely breathable fabric
- 9 < RET < 12 = very breathable fabric
- 12 < RET < 20 = breathable fabric
- RET > 20 = little or no breathability
How to choose your waterproof overtrousers based on your outings and level of exertion?
During sports activity the extent to which we perspire depends on the intensity or duration of the physical effort.If the fabric's breathability isn't suited to the type of activity/exercise your perspiration will condense inside jacket.You will feel damp inside:this isn't rain coming through but perspiration condensing.You therefore need to choose over-trousers in line with your activity type.This product is designed for hikes lasting several hours while walking at a pace of no more than 5km/h.
Warranty
Our hiking overtrousers are guaranteed for 2 years.
Our commitment? To offer you long-lasting products that you can use on all your country hikes and walks. Because the products we love the most are those that have a story behind them... and plenty of life in them yet!
Product concept & technology
Product Composition
Main fabric 100% Polyester Coating 100% Polyurethane
Main fabric 100% Polyester Coating 100% Polyurethane
Main fabric 100% Polyester Coating 100% Polyurethane
Main fabric 100% Polyester Coating 100% Polyurethane
Main fabric 100% Polyester Coating 100% Polyurethane
Main fabric 100% Polyester Coating 100% Polyurethane
STORAGE ADVICE
It is important to always make sure that the trousers completely dry before putting them away.
TESTS
It's in France, at the foot of Mont Blanc, that our design team conceives, designs and creates Quechua products. We test them in the laboratory and in the field with other hikers to make sure that they are comfortable and waterproof. Whether it is in forests, on the coast or in the countryside in rainy weather, we cover as many different paths as possible. This testing gives us plenty of opportunities to discuss the products, get your feedback and plan our future collections!
User Restrictions
Not advised for intense, continuous exo: fitness wkg, running...
PRODUCT MAINTENANCE

Machine wash - 30° max - normal

Do not bleach

Tumble dry - low heat

Do not iron

Do not dry-clean