3 Popular outdoor sports for keeping fit over the winter season
Why not do something different this Christmas and get together with your friends for some exercise?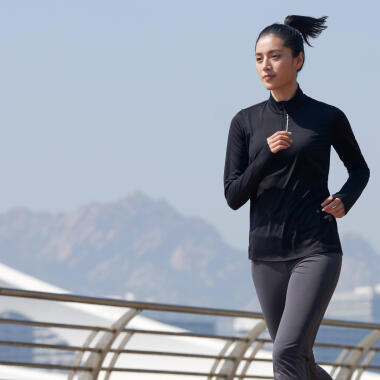 In normal times, Christmas is one of the busiest travel seasons. However, with the pandemic still ongoing, travel remains off the cards for the foreseeable future, and celebrating Christmas in Hong Kong looks like the only option.  In addition to the usual festivities, why not do something different this Christmas and get together with your friends for some exercise? As well as feeling less guilty about all the big meals, you'll also be well prepared for reaching your weight-loss target in the new year.

Hong Kong is very densely populated – all those crowded streets are not exactly ideal for outdoor sports. However, if you avoid peak times, there are still plenty of ways for you to keep fit during the holiday season. Hong Kong's many waterfront parks are ideal for outdoor sports such as jogging, yoga and roller skating.
The best waterfront parks for jogging
Kwun Tong Promenade is a popular and easily accessible spot for jogging. The waterfront park is a rare oasis in the busy district of Kwun Tong. The promenade is approximately 1 kilometre long – as well as running back and forth along the waterfront, you can also run towards Kowloon until you reach the Zero Carbon Building, or follow the path around Kai Tak Cruise Terminal, which offers stunning views over Lei Yue Mun and the eastern side of Hong Kong Island. Kwun Tong Promenade is also a great place to see the sunset when you can watch the sea glisten in the reddish-orange rays of the evening sun.

Tsim Sha Tsui Promenade is another great place for jogging and offers breathtaking views of Hong Kong's famous skyline. This promenade is about 2 km long starting from the Star Ferry of Tsim Sha Tsui in the west and ends of the entrance of the submarine tunnel of Hung Hom. The recently restored section of the promenade is now open again, allowing you to run all the way to East Tsim Sha Tsui and back.
The best outdoor yoga spots
If you're not a fan of cardio, Hong Kong's waterfront parks are also great for a soul-cleansing session of yoga. With yoga becoming increasingly popular, you're bound to have at least a few friends who would be willing to join you.

Yoga is all about creating a connection between mind and body – the combination of yoga movements and breathing techniques helps to relieve stress and negative thoughts. Don't be put off by images of complicated poses – even simple moves such as static stretching or meditating for 10 minutes count as yoga. In addition to improving strength, flexibility, and posture, yoga is also a great way to take a break from hectic city life and connect with your body. All you need is a yoga mat and a willingness to learn and spend time with yourself.
Get fit on wheels!
If you find running boring, why not try roller skating? Roller skating took off in the 1980s and 1990s, after which it gradually declined in popularity. Recently, however, roller skating has been making a comeback in Hong Kong. Roller skating shares many similarities with ice skating, so if you know how to ice skate, you should have no problems with roller skating.

There are two types of roller skating. Artistic roller skating involves moves such as jumping, upright spins, sit spins, and single, double and triple-loop jumps, while speed skating requires speed and endurance and includes a range of distances including track events, road races and marathons. If you're new to roller skating, you can focus on learning the basic manoeuvres such as skating forwards and backwards and braking, before moving on to more advanced moves such as U-turns.

You don't have to go to a skating rink – Hong Kong's waterfront parks are also ideal for honing your skating skills. Covering an area of 9800 square metres, the newly opened East Coast Park between Fortress Hill and Tin Hau has plenty of space for practising new manoeuvres. Belcher Bay Promenade (also on Hong Kong Island) is another popular spot for roller skaters.
Finally, don't forget that everyone has the same right to use outdoor spaces, so respect other people and try to keep disturbances to a minimum.