Inflatable kayak: pumping, cleaning, storage
Inflatable kayak can be conveniently stored and used in all situations! Here are 2 videos that demonstrate how to pump, clean and store an inflatable kayak. Find out more!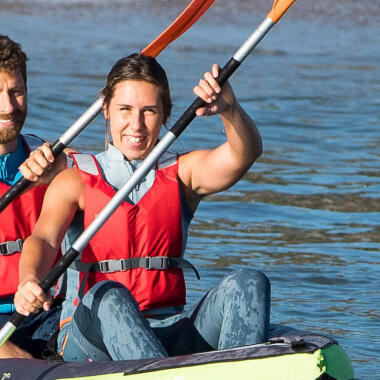 Inflate and set up the kayak
Each kayak has its designated PSI (written over the air valve). Do not over-inflate as it might cause damage and danger.

The sequence of inflation should be as follows:
1. The middle valve (Bottom of the kayak)
2. The left & right valves (Two sides of the kayak)
3. Seats (Fix them on the kayak before inflating)
Tip: It is not a must to fully inflate the seat, adjust pressure for comfortable cushioning

Before paddling, check if the kayak is intact and listen to any sounds of air leaking. Only place the kayak in knee-deep water to protect the fins. Do not drag the kayak, as it might cause damage and leaks!
Deflate the kayak
To deflate the kayak, remove the cover on the air valve. Press the button and let the air out. Do not look into the valve as the air will rush out. 
Clean and store a used kayak
After paddling, remove the fins. Close all the caps tightly over the air valve, then clean the used kayak with fresh water. Pay extra attention when cleaning the accessories like the zip and fin box, to avoid any gravel or salt stuck in the interior. Dry and store the kayak in a cool and dry place.  After, fold the kayak and press to remove any residual air inside. Do not fold near the fin box as it is fragile! Finally, place the kayak, fins, pump and paddle back in the bag, and store in a dry and cool spot.
Kayak maintenance service
We also have a kayak & SUP maintenance service. If you have any questions, do not hesitate to speak with our Sport Leaders!