Camping | how to clean polyester and down sleeping bag?
Follow our advice to prolong the lifespan of your sleeping bag by learning how to clean them properly and enjoy better nights.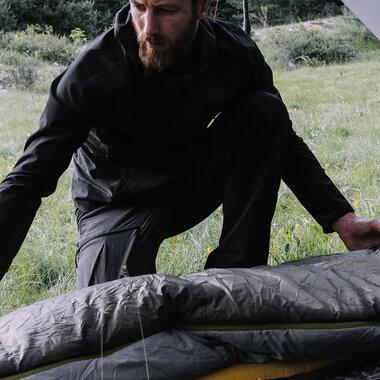 How to fold and store to your sleeping bag?
If you have a down/feather sleeping bag

Knowing how to store the sleeping bag is as important as cleaning them. Down ages badly if it is compressed, it is therefore better to store a down sleeping bag in a large compression bag. Quechua down filled sleeping bags are sold with these bags, which enable easy storage that does not damage the down and saves space. Our tip, if you prefer to keep your sleeping bag unfolded: Hang it with a hanger, like a pair of trousers.    

If you have a wadding filled sleeping bag

A wadding filled sleeping bag can be stored in a compact compression bag.The best is to stuff the sleeping bag in the bag (like in the video), avoid carefully folding it. The wadding fibres are not always squashed in the sale place and you will keep it in good condition for longer.
How to clean my sleeping bag?
If it is polyester wadding:

The process is as follows:
- place the sleeping bag in the washing machine.
- Add 2 or 3 tennis balls (new balls or balls that have been washed in bleach, if possible):they enable better beating of the sleeping bag and better washing, without damaging it. 
- Start a 30° C cycle, without spinning.
- Then air dry the sleeping bag.



If it is down:

The golden rule is to wash the sleeping bag as little as possible.The safest option is to have the sleeping bag professionally cleaned at a dry cleaner.It is particularly important to check that it is completely dry, particularly at the seams.

For easier maintenance and to avoid dirtying inside the sleeping bag, you can use a cotton or silk sleeping bag liner..

Long live your camping companion!
To make sure they're well kitted out: