Experience snorkelling with children
There are many ways to enjoy a beach family day. Other than swimming, building sand castles and sunbathing… You can also go snorkelling! With a mask, snorkel, fins and a few safety rules, you are ready to practise this educational activity with your family.

Find out how to help your children experience snorkelling!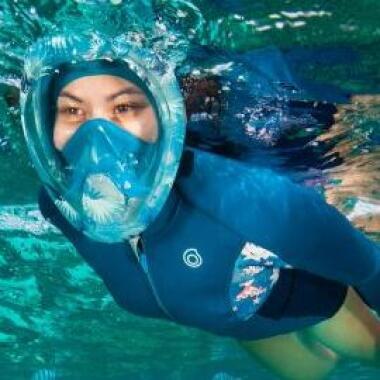 Beginning snorkelling 
Usually, you only need 3 basic accessories for snorkelling: Fins, mask and snorkel. However, when it comes to introducing the youngest to snorkelling, they are not enough! As snorkelling is not an intense physical activity, there is a risk that your child will feel cold in the water. Hence, it is important to offer your children good thermal protection with a shorty or a neoprene top. The suit also protects your child's fragile skin from sunburn and possible scratches on the rocks. If you plan to snorkel with your children in 28°C water, sun-protection top is another suitable choice.

Don't forget to apply waterproof coral-safe sunscreen, especially at the back of the arms and legs!

 
The right spot and time
For children first steps into the water, it is best to choose a day of good weather, calm sea and spacious beach. There is no need to go far off! The rocky strips of the seaside lives many animal species that will delight your little ones. There is a bigger chance for them to cross fish and shellfish as well! Stay close to your children and make sure their limbs do not hit the bottom and over exhaust themselves!

 
Help your kids with the mask and snorkel
A crucial step to snorkelling is to teach your kids how to use their mask and snorkel! You can start out of the water, by practising breathing only through their mouths. You can also practise in the pool or in the bathtub! For his first time into the sea, start by sitting in the water or standing at the edge.

Your children should have a snorkel at their size. Using an oversized snorkel will cause your little snorkeler a shortness of breath and discomfort.The size of the snorkel must be proportional to the lung capacity of the snorkeller. 

If your child is not very comfortable with breathing through the mouth, he can start with the Easybreath mask. It allows them to breathe underwater through the nose. No more risk of fogging or water entry even in choppy waves!
Extend the snorkelling adventure!
Another key condition for a comfortable snorkeling experience is to ensure good buoyancy support for your child. The younger children would feel much more secure in the water with inflatable buoys or buoyancy vests. With stable support, they can remain calm and observe the ocean in peace. 

If your child is not comfortable enough to put his head underwater, it is still possible to snorkel and discover the wonders of the seabed with Olu, our new observation buoy! Olu is equipped with a anti-fog, anti-glare transparent vision chamber. It allows snorkellers to discover the underwater life while staying above the water. With a buckle on the side, you can buckle up the Olu, pair up with your children and enjoy the snorkelling experience together! What's better, you can chat with your children about the wonders you see underneath. Safe, secure and family-friendly, it's a perfect choice for our young snorkellers to explore the sea!