How can swimming equipment train up different parts of muscle? 
Have you ever heard of the swimming equipment such as swimming paddles, fins, snorkels and pull buoy? They seem to be simple and handy, but they all are are incredibly helpful  in muscle building for swimming. Different swimming equipment can train up different muscle groups. Together with suitable training plans, we believe you can take your swimming techniques to the next level.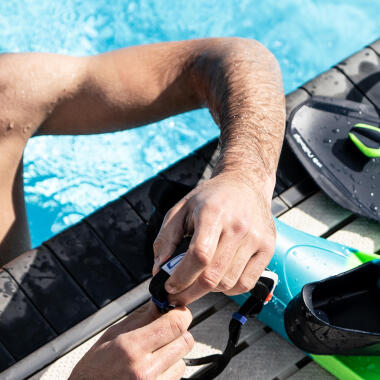 1. Short swimming fins
Swim fin with short and flexible blade enables medium propulsion for a good cardiovascular workout.It can enhance your leg's muscular endurance. As a result of increased resistance, you can correct the wrong swimming posture of the leg and effectively train the lower part of the body.

Functions:
- Increased resistance: Short fins can increase the area of ​​contact with water during kicking and conduct resistance training.

- Muscle training: Medium-to-strong strength training in thighs and abdomen.

Material:
- Rigidity: The hardness of silicone-made fins is very important. If the flippers are too hard, it may cause an ankle sprain.
- Short ankle design: Short fins ensure an ideal kicking-frequency, which greatly improves cardiovascular function compared to long blades. After all, the foot is quite distant  from the heart, with high-intensity water kicking, the heart rhythm will be improved significantly. On top of this,it can be an extra training to the thigh and hip muscle strength too.

☆Sufficient warm up exercise before training can effectively present injury or cramps.
2. Swimming paddles
If you want to strengthen your upper limbs' muscle endurance today, it is recommended to use it with a rower. You can also use a small kickboard or swimming fins to make different training plans!

Functions:
Resistance training: Since the hand paddle can increase the area of ​​contact with water as you paddle, different hand resistance training.
Muscle training: With the hand paddle, you can strengthen your biceps, triceps, and upper back muscles.

You can also choose the most suitable shape of the paddle according to the individual needs and practice level . It can also have different training effects with different wearing methods and training menus.
First-time users should go for a smaller sized hand paddle to start with as the resistance will be smaller. For more experienced swimmers, they can consider larger and wider hand paddle as it gives more resistance.
3. Swimming kickboard
Swimming kickboard with buoyancy can help swimmers who want to increase their practice diversity. Choosing the right kickboard which are in shoulder-width can give you the right buoyancy in water. Let's discover different varieties in swimming practices with the kickboard that suits you!

Functions:
Lower-limb muscle training: It is suitable for occasional or regular swimmers to  train up their lower body movements when kicking their legs and help with enhancing core-muscle control.
Upper-limb muscle training: Some kickboards can be used as a pullbuoy to be put between the thighs to train up for the upper limbs

Core-muscle control: Kickboard with less buoyancy requires users to use their core-muscle strength to put their body in the right position, which in turn enhance your core-muscle control
Kickboard is a kind of handy and practical swimming equipment while a right kickboard can help you to improve the whole-body muscle and core-muscle stability!
4. Swimming snorkel
Wide swimming centre snorkel is a very helpful tool for swimming beginners, triathletes, professional swimmers and coaches, for both leisure and fitness purpose. Picking the right swimming snorkel can you focus on improving your swimming posture and breathing.

Functions:
- Keeping good balance: It reduce the users' needs to take good care of breathing when turning during practices, allowing you to keep in good balance and focusing on the posture
5. Swimming pull buoy
The swimming pull buoy s a must-have tools for upper-body muscles training. It is suitable for occasional and regular swimmers , who wants to train your upper body (biceps, triceps, shoulders and abdominal muscles).

 

Functions: 

Upper-body muscle building: It provides greater buoyancy to lift the legs, forcing swimmers to use their upper-limbs to keep themselves moving in water during practices. It can allow users to concentrate on mastering arm-stroke technique

Core-muscle building: If you want to work specifically on your core muscles, you can position the pull buoy in-between your calves. In this way, you can control your core muscle in greater details during turning or somersaults

 
Apart from regular swimming practices, it is also of utmost importance to find the suitable swimming equipment in order to strengthen the different muscle. With right choice of swimming equipment and proper usage, your swimming technique can be taken to the next level!