Swimming | 3 sun protection tips for beach day
Planning a beach day? Check out 3 sun protection tips on the beach for your loved ones during the summer. Grab your beach hat now.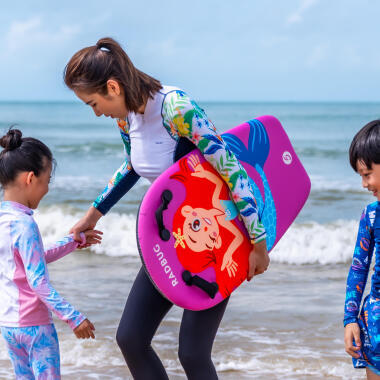 Sun tanning is perfect but there are more ways to have fun with your friends and family at the beach.
Before heading to the water, let's check out the useful things to keep in mind while going to the beach.
Protect yourself from harmful rays
THE SUN'S RAYS CONTAIN UV RAYS. Ultraviolet rays are invisible to the naked eye and do not make any difference to the feeling of warmth. We are exposed to UV rays, without even realising it. These rays penetrate deep beneath the skin and trigger the ageing process. UVA rays cause wrinkles and brown spots. UVB rays tend to work on the surface and stimulate the production of melanin.

THEY CAN CAUSE SUNSTROKE. An overdose of UVA and UVB rays, combined with insufficient hydration, can result in a serious case of sunstroke. Even if you are already tanned, you still need proper sun protection, even if you are not prone to sunburn. 
Cover yourself properly
Depending on the model, our sun protection clothing provides permanent and durable protection against the sun for between 1 and 3 hours.

Not only do our anti-UV tops protect you against the sun, but they also prevent chafing skin due to friction between your torso and the hard board wax, not to mention the uncomfortable mixture of sun cream and sand that sticks to your skin.

The eye has a cornea that forms a natural barrier against radiation from the sun. Every day, these two small natural barriers are put to the test when you are exposed to sunlight. This is especially the case during repeated unprotected exposure. As a result, sun rays pose a danger to your eyes: they can speed up ageing and tissue degeneration or even cause corneal burns. Remember to grab a sun protection hat before heading out to the beach. 
Find some shade at the beach
There are many people who want to get some shade on the beach. Beach canopies are designed to shade a larger space, this canvas has enough space for up to 4 adults! Compact, light, and quick to assemble and disassemble, you'll never want to go without it. 

Sun shelters, without a pole, are like little tents. Composed of a canopy attached to a tarp on the ground, they provide wind and sun protection. Thanks to the tarp on the ground, they help protect your belongings from the sand and keep them out of sight of other beach users.

Parasols are a simple and convenient way for sun protection. In addition, it is easy to set up, transport and secure. To firmly anchor it in the sand, a spiral spike is your best bet. Depending on the width of the canopy, the whole family can shelter under it for a picnic.
Beat the heat by cooling down and enjoying some chilled drinks!
Try out different sports
Want to spend some quality time at the beach? Swimmers can head out for an open-water swim in the sea. Parents can teach their kids to bodyboard, fly kites or play frisbees. If you prefer more exciting group activities, try surfing or beach volleyball! 
Things to bring with you: