Hiking | eco-hike guide! our advice for responsible hiking
How to start an eco-hike? How to explore the mountains around us while respecting the environment?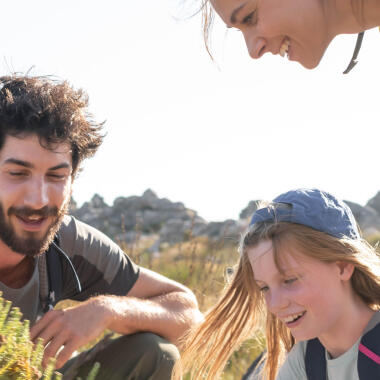 How to Be Eco-Conscious on the Trail?
Let's get back to the basics of eco-friendly hiking
- RESPECTING THE NATURAL ENVIRONMENT -

Responsible hiking is a way to enjoy a meaningful experience. Discover our advices to make your hiking journey more sustainable and responsible.
It's time to (re)discover our mountains
Our first tip for responsible hiking is to hike locally - or at least, as locally as possible.
Even though not all of us are lucky enough to live around the mountain foot, let's think about the scale of our own region before considering climbing summits all over the world.

Hiking as such is surely one of the least CO2-emitting sports, but the transport for getting there still consumes energy.

There are surely so many things that we haven't already seen.

Don't hesitate to set off!
Just remember your headlamp!
Did you know?
Global warming is twice as strong in mountainous regions, so eco-friendly hiking is super important.

Reducing our energy consumption and carbon footprint is therefore an excellent way to help preserve the environment and biodiversity.

Of course, the impacts of such actions may not manifest shortly, but in the long term will help preserve our playgrounds and the magnificent mountain landscapes.
Let's rethink our equipment!
If you want to start eco-hike, you should rethink your hiking equipment. Decathlon not only offers high performance sport products, but our teams are also committed to ensure that by 2026, 100% of our products will be designed with a more respectful approach to the environment.This approach is called EcoDesign.

In the event of a tear or breakage, we can also attempt a home or workshop repair before getting rid of it.

The life of our favourite products can often be extended through repair, before considering to buy new ones.
Second life
Too much is thrown away these days, instead of repaired or reused. So we've made it our business to reduce our impact on the planet through our SECOND LIFE initiative.

How does that work?
We are saving all returned items that have been used or marked and cannot be sold as new but can still be reused. We offer these products at a lower price and prevent them from going to waste.

Through Decathlon Second Life, we make sport accessible to all while significantly lowering our waste and carbon footprint.

Second life is now available in Central and Tseung Kwan O store, visit our stores and ask for our teammate for more detail.
Leave no trace...
This philosophy is so straightforward but we tend to forget it. If you want to start a more sustainable and responsible hiking journey, you should bear those leave no track practices in mind.

Here's a little reminder of the simple actions to take in the mountains:

Collecting our own garbage is the first rule, during a picnic or a night in a tent.

What about waste left by other less considerate hikers?
This is the perfect opportunity to do the right thing by picking them up too.

Other more ephemeral "traces" can also disturb the natural environment: let's try to stay on the paths to avoid crushing rare insects or flowers.

Let's be respectful of birdsongs by leaving our portable speakers at home. We'll have more chances of seeing beautiful wildlife animals.

The landscape is wonderful? Let's try to capture it with a camera rather than launching a drone that disturbs animals and annoys other hikers.
Hike up ⛰ - pick up 👋
Here at Decathlon, we want to get even more hikers involved to protect our playground.

The principle is simple: every time you go hiking, whether close to home or on the other side of the world, think "Hike Up, Pick Up."

Before setting off, when packing your backpack, remember to add a small bag, gloves and hydroalcoholic gel so you can pick up any rubbish you encounter en route!