Triathlon | what is a triathlon?
Triathlon is a sport that combines three sports: Swimming, Cycling and Running.
There is no recovery break between the different events until finished. Let's us help you to know more about it!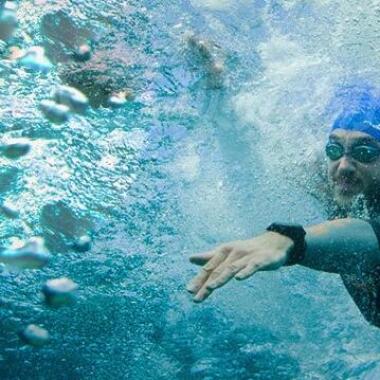 Swimming
If you know how to swim, it's easier for you to start a triathlon journey as swimming is the first designated event and you have to challenge the difficulties of swimming to transit to the cycling event.

Remember to hydrate yourself before the event, it's difficult to fuel yourself in the water as no nutrition intake during the swimming stage.
- Warm Tip: Consume an energy gel with a little water or energy drink just before the start.
Cycling
In all the triathlon events, the bike stage is the one where you can easily rehydrate yourself and refuel some energy gel or drink for yourself. 
It's important to keep up your energy reserves and avoid dehydration to complete all of stages.
Why you need aero bars on the bike and the benefits ? 
The aero bars are composed of two parts:    
   - First is a tube, which is more or less curved that you can hold on it.   
   - Second is an armrest that has foam padding for superior comfort so that you can maintain the same position for longer or shorter periods. 

Benefits:   
   - Use it to reduce wind resistance: Aerodynamics (reduce your body area from hitting the wind head-on because your upper-body will lean down).    
   - It's a consequence of the first: The energy saving, i.e. by reducing the surface exposed to the air, you will save the energy output.

As you are surely aware, aero bars are an essential piece of equipment on fast cycling terrain. 
They will considerably increase your speed and help you save energy, which is an important consideration when you still have the run leg to follow the cycle leg! 
As for choosing your aero bars, you now hold all the cards to decide on the solution that will improve your time without harming your back.
Running
The final part of the race is running. It is not the easiest as it is difficult to eat while running, whereas your energy needs are significant.

In general, runners do not take bottles of energy drinks with them, so the easiest way to provide a regular source of energy is to opt for Energy gels. They should be taken with water.
Categories of triathlons
There are four main categorical distances for triathlon races:

1) Sprint Distance   
   - The sprint is the most popular distance in the sport. Beginning triathletes most often select sprint distances as their first events.      
      - Super sprints: 0.4km Swim ; 10km Cycle ; 2.5km Run      
      - Standard Sprint Triathlon: 0.5km - 0.75km Swim ; 20km to 22km Cycle ; 5km Run

2) Olympic Distance   
   - This is the official distance of the Olympic event, and this event requires a good fitness base.      
      - 1.5km Swim ; 40km Cycle ; 10km Run

3) Long Course   
   - This distances is more challenging than the above 2 events. It is recommended that you consider the challenge only after you have completed in the Olympic distance competition.      
      - 2.5km Swim ; 120km Cycle ; 30km run

4) Ironman / Ultra Triathlon   
   - Each of the legs alone in this event challenges even the experienced endurance athlete. Train for an Ironman distance only after you've had experience in shorter races and completed at least one Half Ironman Triathlon.      
      - 3.8km Swim ; 180km Cycle ; 42km Run
A few tips for you
Make sure you get a period of rest between each race to optimise your performance!

Between short races, you will soon be able to resume your training pace and move on to the next race. However you will need to rest properly between longer races. 
If you want to do two Half-Ironman triathlons in a row, you should leave at least a 2-month period between the two.
For an Ironman triathlon, you can do a Half-Ironman race up to 6 weeks beforehand. If you are doing two Ironman triathlons in a row, make sure you do a maximum of two over the course of the year. 
Once again, everyone is different and has a different capacity in terms of sequences. Don't forget that it's important to manage your efforts throughout the season.To optimise your performances, you have to work on each cycle, with general preparation cycles, more specific cycles, fine-tuning and rest stages between each objective. 
It is impossible to have high-performance all year round so you have to manage your fitness peaks! 


Spend time managing time for your training sessions, work and personal life!

It is important to sit down and plan your schedule. Considering the points mentioned above, you should list your constraints throughout the preparation period. 
It isn't a good idea to do a Half-Ironman when you know that you will have a packed work schedule in the 2 months preceding it!
Look at the calendar, write down the races that you are interested in, share them with your friends, decide and sign up. Registration to races is often done early in the season and some races are literally overrun with participants! When setting your objectives, make sure you set aside rest periods and maintain balance in your life!
Finally, don't forget that you are responsible for choosing your own races and for putting everything in place in order to achieve your objectives. You may sometimes wonder why you have decided to embark on this adventure, but during those times, remember how important it is to you a few weeks or months ago. I like to remember that it isn't just about getting to the finish line, but also the journey that counts, so enjoy it throughout the year!