Trail running|the ultimate shoe test for the mt cushion
Stephen and Wai Hung recently completed the Hong Kong Ultra-Triathlon 260 Challenge, which involved running the full length of the MacLehose trail. This tough challenge was the perfect opportunity to put the all-new MT Cushion trail running shoes to test through their paces.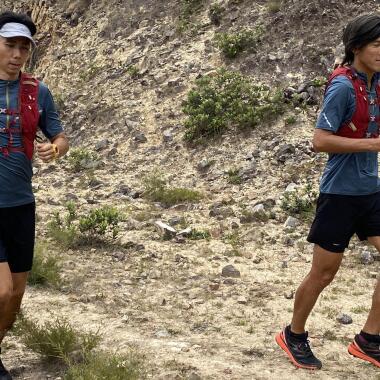 THE MT CUSHION IS A TRAIL RUNNING SHOE WHICH FEATURES A SOFT SOLE AND INTERNAL FOAM PADDING THAT REDUCES THE RISK OF INJURY WHEN LANDING ON SHARP SURFACES.
The cushioning effect helps to provide maximum comfort with every step.
Stephen sprained his right ankle just one week before the challenge and was worried that he would not be able to complete the run. Thankfully, the MT Cushion shoes acted like a soft cushion and helped to support his feet. The 100% Kalensole sole provided additional stability and helped Stephen to maintain his balance and avoid the risk of another sprain during the challenge.
Lightness and traction
Compared with other brands, the MT Cushion provides excellent traction thanks to the 5 mm lugs. Despite the rather clunky appearance, the MT Cushion offers a balance between strength and low weight and is just 2 g heavier than our standard trail shoe.

The MT Cushion also has a pocket for storing your laces so they don't get caught on vegetation.
Perfect for long distance
In terms of durability, we wore the MT Cushion for the entire duration of the 100 km run, which included paved tracks, gravel paths and muddy surfaces. Despite this, there were no signs of damage at the end of the run. Other lightweight trail shoes use thinner materials, which means they're susceptible to damage when you run on rugged surfaces.

To our surprise, the MT Cushion offered excellent protection, despite the softer sole. It took us 28 hours to finish the MacLehose trail, but we didn't experience any significant discomfort afterwards. We usually like to train in our new running shoes before doing a long-distance run, but we didn't have the chance to do this before starting the challenge, so we had prepared another pair of shoes just in case. However, we managed to finish the entire route with the MT Cushion shoes.
Value for money
The MT Cushion is easy to get used to and is very affordable. They'd look even better in a brighter colour.
Wai Hung (Right): Registered Track & Field Coach
OXYONE Coach
"疫境自強" star coach

Stephen (Left): Best marathon time: 2 hours 38 minutes
Head coach for WeSport non-profit sports organisation
First Hong Konger to complete round-trip run around Taiwan (2014)
Author of 環台跑不是夢
Overall, we'd give the MT Cushion a score of 90 out of 100.

We would definitely recommend them to beginner trail runners or hikers. Thanks to their soft design and excellent traction, they're particularly suitable for uneven surfaces and hilly routes. They also have a really durable sole. Overall, they offer excellent value for money.